Di biggest challenge way I bin get in my first 3 years as a trader was how to grow my trading account and my discussions with other traders in di past five years don make me understand say no be only me bin dey get di same issue. So, I want share with you dis very simple but powerful trading strategy way you fit use 3x your trading account in three months.
Words no fit explain di frustration of watching your capital go as a donation to di market despite all your trading knowledge. In fact, trading no be all about making profits but growing your trading account because dey get traders way dey make profit but their losses dey more dan di profit.
You dey very much aware say you fit dey see profit and still no dey grow your trading account.
Wetin fit cause dis kind thing?
Why your Trading Account no dey grow
Plenti factors fit dey responsible for dis particular situation but make we look some of di major factors wey dey make some trading account no dey grow.
Lack of basic knowledge: You no necessarily need to know everything about trading but e dey very important say you at least understand di basis like candlesticks, price action, market structure, price cycle, order block, indicators, and analytic tools. Just to mention a few.
Emotions: Even with your basic trading knowledge, if you no sabi control your trading emotions, especially fear, and greed. Just get ready to dey donate your capital to di market because any amount of capital be like ant when emotions start to control you and di result go show for your trading account.
Mentorship/Communities: Most traders dey turn out to be like their mentors and to unlearn bad habits or approaches to trading dey hard sometimes, just as e hard to leave wetin you don learn from your trading community. If you dey try grow your trading account with a community way get gambling mindset or revenge trading habit, e don be for you.
Strategies: If you enter social media, you go discover say trading strategies want come plenti pass traders but dat one no mean say you must trade or follow dem if e no dey work for you because most strategy dey unique to individuals. Until you find dat comfortable strategy way dey work for your kind of person, you fit dey make losses.
Talking about strategies, before you try out any strategy, try to study di basis behind it.
some strategies go require you to sabi use some kind tools, indicators, patterns, knowledge, or even timeframe but make we leave di plenti talk and jump into dis simple but very powerful strategy way you fit use grow your trading account.
Di Simple but Powerful Strategy dat will grow your Trading Account
E go dey unfair to share dis strategy with you without telling you some of di tools way you need to use dem walla.
So I go drop some of di tools or knowledge way you need to get.
Tools and Knowledge Behind dis Strategy
Price Cycle: As simple as dis concept e still dey very powerful when you understand di four cycles way price dey make for di market starting with consolidation, expansion, retracement, and den reversal. but na just expansion and retracement dis strategy dey use.
Market structure: just know di small small tins about di market structure like break of structure and change of character.
Fibonacci Retracement: Dis strategy involves selling premium market and buying discounted market so you just need to understand how Fibonacci dey take work.
Support and Resistance: Knowing how to draw supports and resistance and how price dey take react in doz zones.
Top to Bottom Analysis: You go sabi look price from weekly timeframe dey go down to smaller timeframes.
Enough of di tools and concepts, make we see dis ogbenge strategy way go fit grow any trading account.
Strategy To Grow Your Trading Account
Di Selling Pumps Strategy
Yes! after studying di price cycle, I discover say price dey always sell (retrace) after every Bullrun, and instead of chasing di Bullrun and losing moni to dey volatile drawdown way dey always happen when di market dey pump, I go just wait for di pump to finish and den sell with retracement.
As di bulls dey take their profit from di Bullrun, price drops down and na dat sell dis strategy dey use to catch batta profit for your trading account.
Make we see examples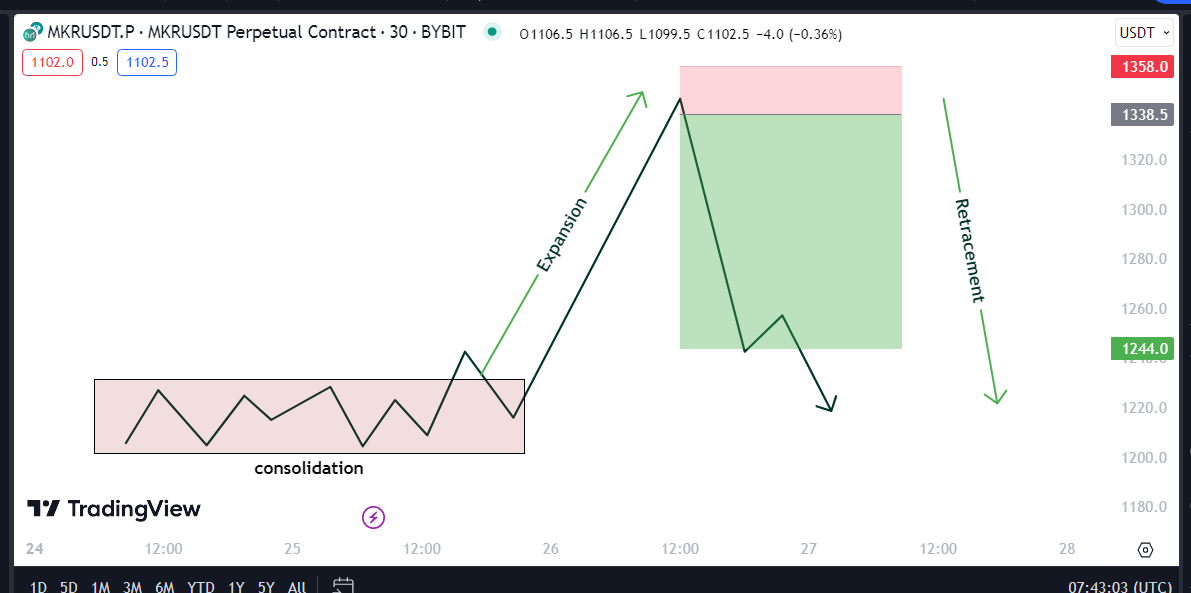 From figure 1, all you need na just to wait for a breakout and allow di bulls to do their tin after you don mark out their possible destination on a higher timeframe.
Dis destination fit be supply zones, order blocks, discounted zones, and resistance for di higher timeframe.
After marking out dis possible reversal zone, you enter your sell order di moment price interacts with doz zones, and boom! You sell down to di previous high way price breakout from.
Figure 1 na illustration, so make we look live chart for examples.
from figure 2, OGN bin dey sell, forming lower lows and lower highs down to when im start to consolidate (ranging market) before di breakout and di bulls enjoyed demself up into premium market.
Fibonacci retracement tool and market structure help us to mark out where buyers go start to take their profit and so we sell from there and hold till price retest di previous high before di breakout.
make we test di same strategy on DOGECOIN.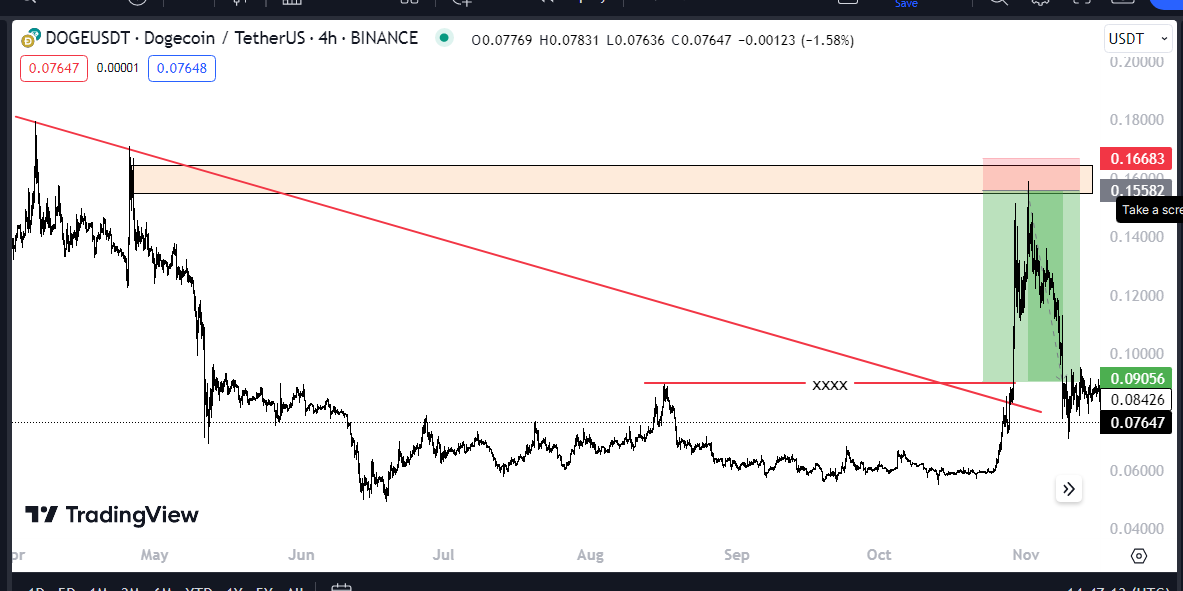 After price break di xxxx mark, buyers push DOGE enter premium market and took profit at di supply zone and di selling pumps strategy na all about selling after di pump and growing your trading account with dis low risk to reward strategy.
make we look di last example on STMX.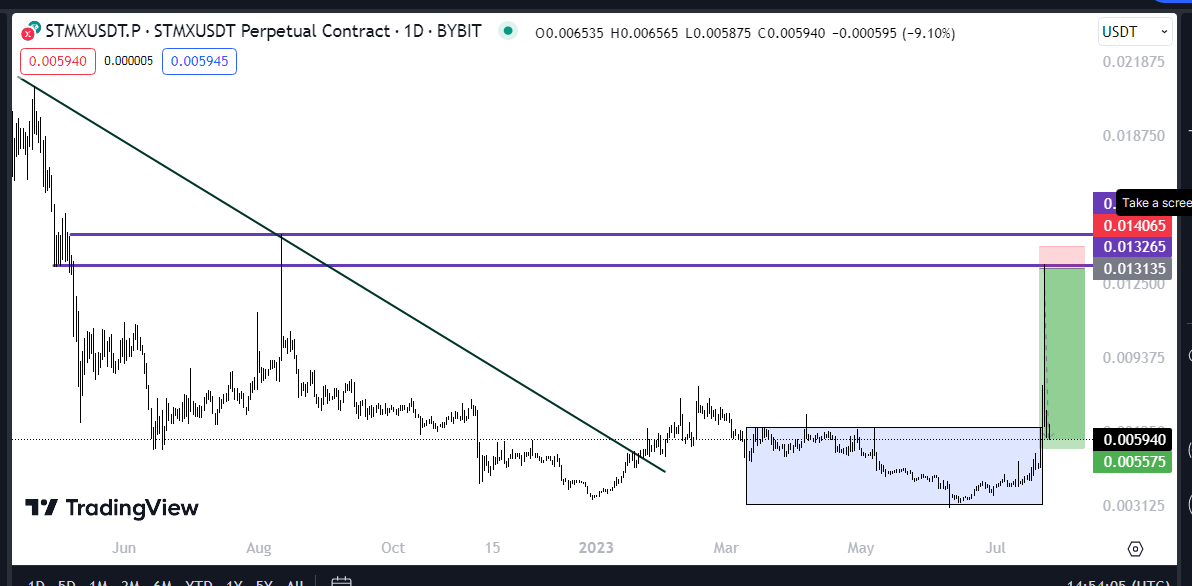 After a long range and indecision, buyers carry di market run and while other traders dey find how to join di buying team, di selling pumps strategy traders go just dey mark out possible sell entries for higher timeframe and immediately one good entry is spotted using di tools and concepts way we don discuss inside dis blog, you enter your sell position and enjoy di ride down while late buyers go dey adjust their stoploss hoping for more buys.
Disadvantages of Dis Strategy
yes! every strategy get their own gbese so make we look some of di issues way you fit get with when  trying to grow your trading account with dis strategy.
Knowledge gap: If you no sabi use some of di tools way go help you mark out di right resistance zones, you fit dey collect losses and your trading account fit no grow as you take expect. So, develop more time to learning.
Wrong entries: In some cases where you get maybe two order blocks close to each other, price fit break your first entry to fill a higher zone, so you can always use a limit order on both entries make you no miss out.
Update: You fit only trade di strategy when buyers flex their muscles, so how to know when coins dey pump na another issue but you can always set price alerts on your trading exchanges or TradingView.
Advantages of Dis Strategy
Good Risk to Reward: Good risk management remains di best way to improve your trading account and habit and dis strategy dey allow very good risk to reward ratio.
Early entry: Dat worry of say your trade go knack stoploss di moment you drop your device no too dey when you catch an early retracement way dey even last for weeks in some cases.
Confidence: Using a good strategy like dis one dey improve your self-confidence as a trader and e dey always reflect on your trading account.
Low Risk: Since you have a sure 4RR (risk/reward), no need to risk a high percentage of your trading account in one trade.
Frequent setups: You go surely see selling pumps opportunity from time to time and before you know it, you go don grow your trading account.
Conclusion
Di challenge of growing a trading account dey affect almost every trader especially newbies and di selling pump strategy way we don discuss for dis blog na one simple but very powerful trading strategy way go help you grow your trading account. Also bear in mind say you need to backtest dis strategy over and over before trying it on your trading account.
Your feedback on our articles dey help us know wia and how to take improve to make sure say you dey get value. So, try dey drop your reviews and comment on our handles and website, and no forget to check our Twitter handle for steady update and our website to dey learn about crypto and hear hot tori as e dey hot.
DISCLAIMER: Cryptocurrency dey very volatile and e dey hard to predict am, and all di information for dis blog no be financial advice so make sure you and your financial advisor get betta discussion before you make any form of investment.