Inside di cryptocurrency space, dey get some events way dey get high impact on di entire ecosystem and halving na one of dos events. So dis blog go breakdown di concept of halving and why e dey so important to you as either an investor, newbie or enthusiat.
But before dat, a proper understanding of some kind terms go help us understand di importance and why many people dey always look out for dis event.
To understand halving, you go need get basic knowledge of mining,  cryptocurrency, and blockchain.
Wetin be blockchain?
Blockchain na digital book way dey keep di records of all transactions of a particular cryptocurrency. e no get any oga or central govment wey dey control am and e dey get different computers all over di world way dey maintain am.
Wetin be cryptocurrency?
Cryptocurrencies na digital moni way dey use very strong mathematical wahala (cryptography) as im security, dem dey operate on blockchain way make dem dey transparent, and safe.
Di Basis of Halving
Cryptocurrency halving na event way don dey programmed to happen inside some kind blockchain like Bitcoin, Litecoin, Bitcoin Cash, and others. diz networks dey use wetin we dey call Proof of Work (PoW), where miners dey receive freshly minted coins as a reward for di transactions way dem dey add to di blockchain after approval.
Di more di mining, di more di coin supply way go dey in circulation and to control inflation, dem introduce halving where di reward for mining go reduce by half after a certain number of years.
why Is Halving Important
Just like our traditional banking system, anything way make di central banks print excess moni, inflation go rise. Halving dey in di same way, reduce to amount of coins way dey enter di blockchain so dat di coin no go quick lose value over time.
More miners go stop work as di reward dey reduce, plus say di mining process no too dey easy and di equipment for di operation still come dey expensive.
Because of di inflation problem way im dey solve and di balance way e dey give dis coins. Halving impart dey cut across di entire cryptocurrency economy and market as investors and newbies dey try take advantage of di event to make good profit.
Impact Of Halving
Di impart way dis event get on di cryptocurrency space na wetin make am dey very important.
So, make we see some of diz impact.
Economic Impact
Scarcity na one economic principle way dey get betta impact for any economy, and e no dey any different for cryptocurrencies. Hence, as dis event dey reduce di creation of new coins, e dey increases scarcity way mean say di supply of di coin go reduce and anytin  way make di demand for dat coin to either increase or even remain di same, di price and value go increase wella.
Now you see why dis event be big deal for investors way want buy before di halving and sell at alarming prices when di price don fly to di moon.
Market Impact
History don show say market dey always react in response to dis big event as price dey become volatile and also dey bullish for a long time after di event.
Investors and social media dey always dey on high alert whenever dis event don dey approach and dis buzz dey come with strong price movement and short term bullruns after which price go drop when investors start to take profit.
Di history of Bitcoin halving don show say after di short term pull back way dey occur after halving, price dey skyrocket to a new all-time high.
make we look into Bitcoin and Altcoin halving.
Bitcoin Halving
Bitcoin way be di first cryptocurrency bin start dis event for 2012 and miners bin dey receive 50 Bitcoin for every successful block way dey mine but di reward come go 25 Bitcoin after di first event in 2012, and 2016 own carry am come down to 12.5, and na so e di half dey go down and di price of BTC dey rise dey go up.
From di image way dey down, you go notice say di price dey go for a new all-time high. No wonder investors no dey use dis event joke.
From 2020 till date, many big names and organizations don dey bag Bitcoin in hope say di asset go cost pass im last all-time high of  $69,198 after di next event in 2024.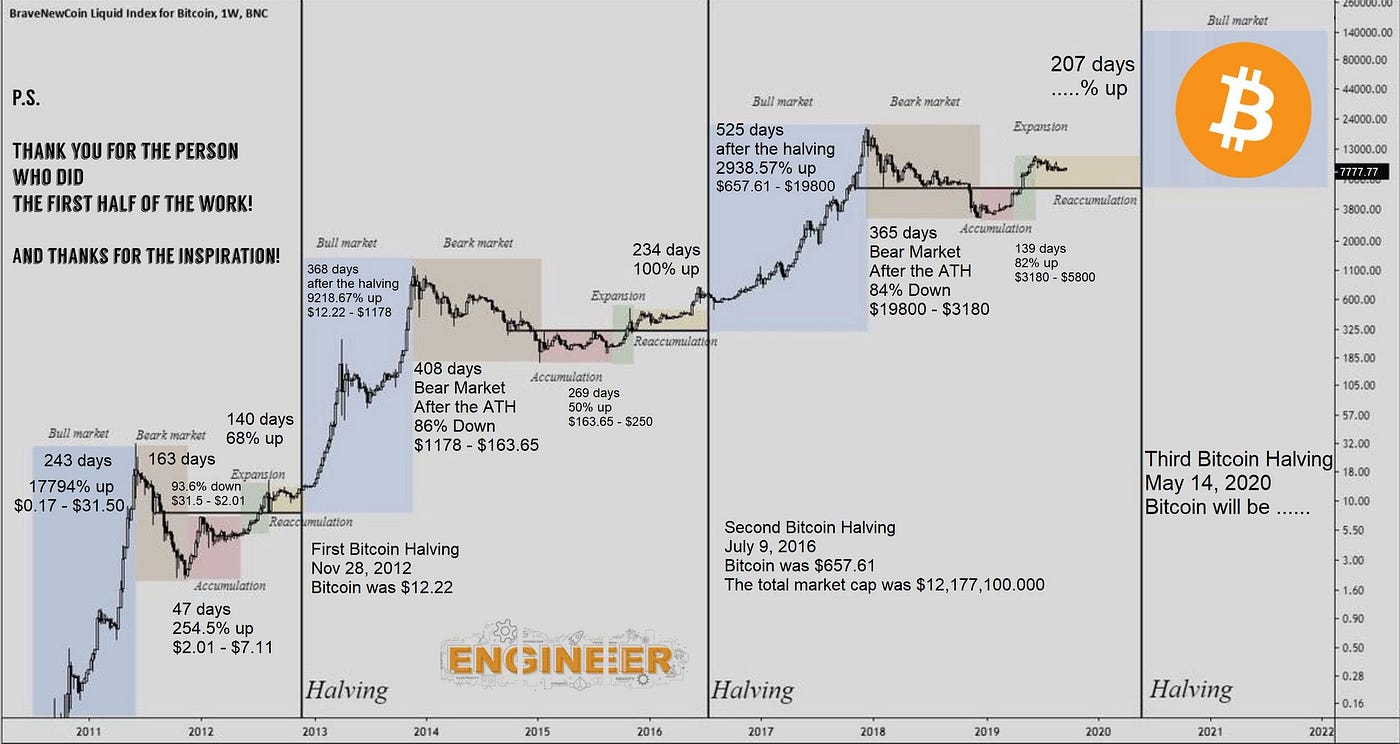 Altcoin Halving
Aside from Bitcoin, some altcoins way dey use di consensus algorithm way dem dey call Proof of Work (PoW) like Litecoin, Bitcoin Cash, and others dey also carry out dis event to control inflation and maintain or even increase di value of diz digital moni dem.
Even as diz coins no dey pull so much weight compared to Bitcoin, dem dey still do well in their own way.
Litecoin after im last event for August 2019 bin experience nearly 1,800% increase in price.
from di price chart way dey down, LTC bin pump from $22 go $417.
2023 Litecoin Halving event prediction
After di massive price movement way follow di last event, investors no want carry last for di one way go happen on 5 August, 2023.
As di record don dey say dis ogbenge event dey carry price go new all-time high. E no go dey out of place to talk say Litecoin dey go $600 after dis event so, and any investor way dey bag LTC now way e still dey below $100 at press time, dey look at over 600% profit in di future.
see di chart for yourself.
Conclusion
Cryptocurrency halving dey unique and very important because e dey regulate supply and promote scarcity way dey drive price up, and dis action dey increase public interest and attract more investors into di space. A good understanding of di importance of dis event go help guide you in making di right decisions and to know say a bigger future dey await cryptocurrencies.
Your feedback on our articles dey help us know wia and how to take improve to make sure say you dey get value. So, try dey drop your reviews and comment on our handles and website, and no forget to check our Twitter handle for steady update and our website to dey learn about crypto and hear hot tori as e dey hot.
DISCLAIMER: Cryptocurrency dey very volatile and e dey hard to predict am, and all di information for dis blog no be financial advice so make sure you and your financial advisor get betta discussion before you make any form of investment.