Bullet point: Recent reports have revealed the number of crypto users to be hundreds of millions.
Digital asset payments firm, TripleA made some sensitive and comprehensive reports to finally arrive at the current adoption figures.
From the report, the global crypto ownership record zoomed to an average of 4.2% this year, showing a total number of 320 million crypto users worldwide.
The US becomes the leading crypto adoption country with about a 46million crypto users, followed by India and Pakistan with 27million and 26million users, respectively.
Research by continents shows Asia at the peak, with a 130million users. Africa bags second position with 53million crypto users, followed by North America with 51 million users.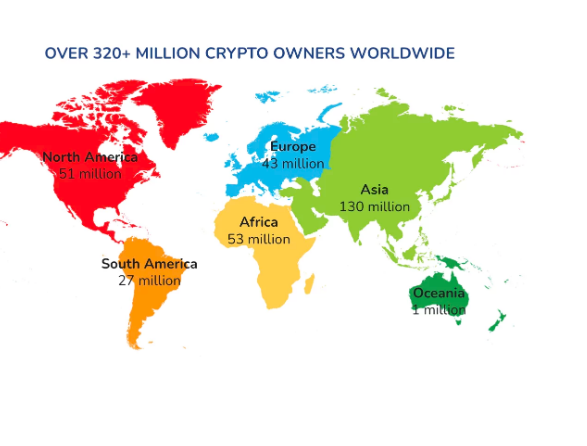 According to the study, the growth of crypto users since 2014 appears to be following the trajectory of internet adoption in the 1990s.
The crypto adoption growth since 2014 takes the same trajectory as internet adoption in the 1990s, the report revealed.
Meanwhile, for the world's first cryptocurrency, Bitcoin (BTC), a report highlights a leading growth in the crypto market cap with a staggering 540,000% from 2012 to 2021.
"Bitcoin reached an annual growth rate of 60% in 2021 and the cryptocurrency market is predicted to grow with a compound annual growth rate of 56.4% from 2019 to 2025,"
Based on the crypto utilities in the US,  the study also shows that 85% of businesses based in the US confirm that digital asset payments are a high priority in their businesses.
Finally, businesses that accept crypto payments bagged a 327% increase in return on investment on average and a surge of up to 40% of new customers, Dailyhodl revealed.
What does this mean
This is rejuvenating News for the crypto space despite the bearish season, and it also reveals how early we are in the crypto space – with crypto adoption of about 4.2% in 2022.