We are in a world where privacy and decentralization remains a concern to the public at large.
Ethereum blockchain took the bull by the horn by bringing decentralized finance to the front view, enabling financial transactions to be done without a central authority or intermediary.
Since then, many decentralized finance(Defi) platforms have been created to make financial transactions safe and transparent.
Centralization happens to be the normal financial system of the world, and have shown a lot of setbacks, from inconvenience to infidelity.
This is why Serum was also created, to help speed up transactions in a decentralized ecosystem.
In this article, we are going to discuss about Serum(SRM) with it's price prediction from 2022 to 2025.
What is Serum(SRM)
Serum is a decentralized exchange (DEX) that offers high transaction speed without compromising transparency and security.
Serum is built on Solana blockchain to offer high level of decentralization from it's permissionless network.
Serum, having combined partners like FTX, Alameda Research, and the Solana Foundation, is a high performing decentralized exchange offering high speeds and low transaction costs to decentralized finance(Defi), coinmarketcap revealed.
SRM is the native token of Serum used to gain voting rights and for transaction fees in the Serum decentralized exchange(DEX).
Tokenomics of SRM
The price statistics of SRM is shown below, according to coinmarketcap.
SRM current price: $0.7708.
Market capitalization: $202,899,752.
Fully diluted market capitalization: $7,831,642,031.
Circulation supply: 263,244,669.00 SRM.
Maximum supply: 10,161,000,000.
Why is SRM unique
The value of a coin is determined by it's uniqueness in the crypto ecosystem.
Below are the unique properties of SRM;
Solves high gas fee issue on decentralized finance: The high gas fee being enquired when utilizing Ethereum built decentralized applications can be tiring always. Ethereum blockchain is known for high gas fee consumption, this makes some people not to be interested in Ethereum built decentralized applications, and in decentralized finance generally. Serum solves this problem by building it's decentralized exchange on Solana blockchain, which is faster and enquires low gas fees, when compared to that of Ethereum.
Permissionless and transparent network: As said earlier, Serum is built on the Solana blockchain and it is permissionless. This makes it really decentralized and transparent.
Governance: SRM is a governance token and it gives users voting rights in any project at hand.
SRM price prediction
SRM is a promising token and will be discussed with some fundamental and technical analysis. These analysis will be responsible for the price prediction done here.
The price prediction of SRM will be grouped into; 2022, 2023, and 2025.
SRM price prediction 2022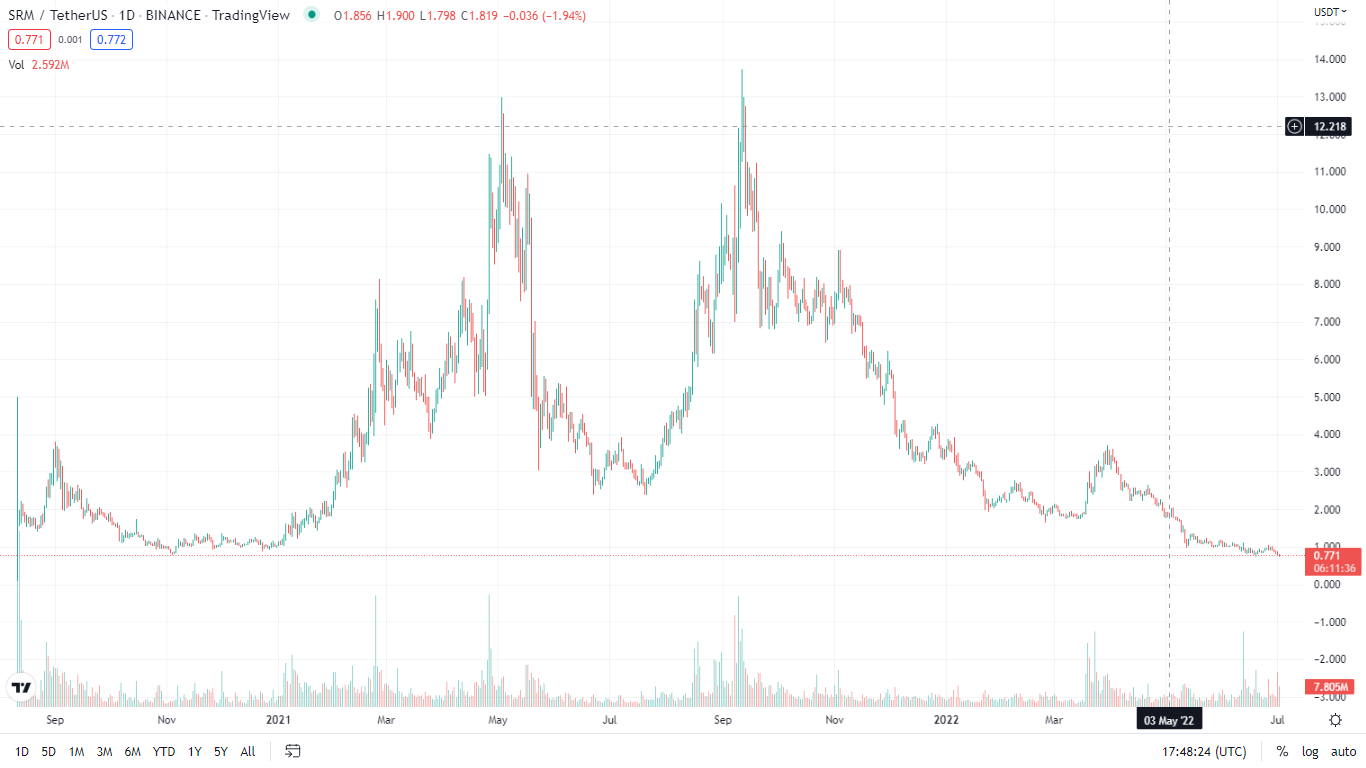 SRM is currently experiencing a break of structure because of the recent Bitcoin dip.
Fundamentally, the tokenomics of SRM is top notch. Having a low market capitalization shows how early the project is, and how welcoming it is for investors and holders. Another catching signal is the sweet circulation supply below a billion, to show how scarce it is, relating to increase in demand.
Technically, from the 1day chart above, SRM has been on a ranging trend, pointing on the low swing, SRM is at a good support currently but might still fall low until market is stable.
This ranging pattern is still valid and shows a bullish trend for SRM.
Finally, from technical and fundamental analysis, SRM is predicted to hit a price of $3 with an average price of $1.6 before the end of 2022.
SRM price prediction 2023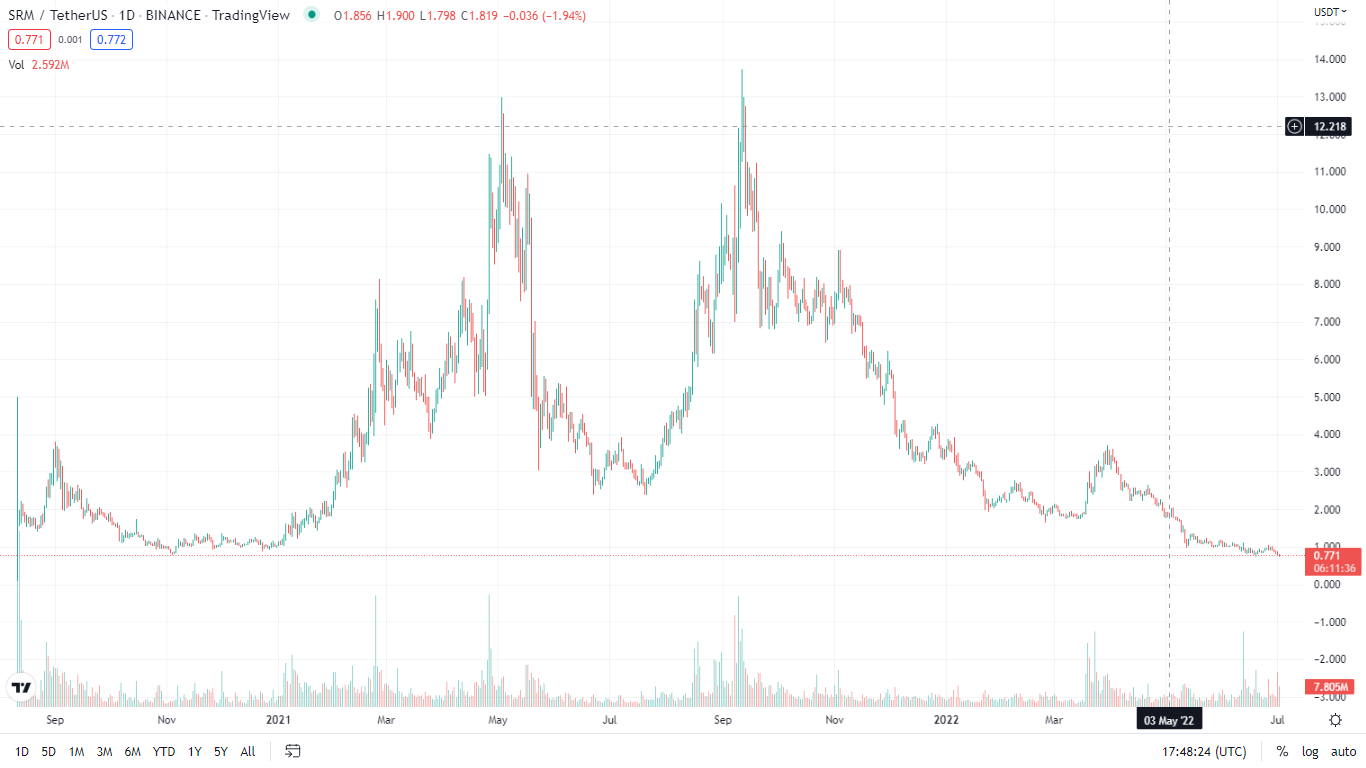 Still on existing fundamental and technical analysis, SRM is bullish. The tokenomics of SRM is responsible for the fast price stats reached by SRM, getting an All Time High(ATH) of $13.68.
SRM is predicted to hit a price of $5 with an average price of $3 by 2023.
SRM price prediction 2025
2025 seems to be a bullish year for the crypto ecosystem. This happens to go in line with the fundamental and technical analysis of SRM.
Fundamentally, SRM will hit a market cap above 1billion by 2025. This will make the price to clinch or exceed the current ATH of SRM.
In combination with the circulation supply, SRM will be a massive bullish crypto currency.
SRM is predicted to hit a price of $14 with an average price of $8 by 2025.
Should I buy SRM?
If you are faced with this question, you have to consider all analysis done in this article.
From the fundamental and technical analysis done, SRM is a promising ALT coin and buying SRM is not a bad idea. You just have to look for a good buying zone to open a trading position.
If you are good with technical analysis, you can easily identify a good buying zone from the ranging SRM.
If you aren't good, you are fortunate, as we would be discussing the best buying zones for SRM currently.
Where to buy SRM?
Choosing to buy a coin is another thing, and knowing where to open a buying position is another thing altogether.
Technically, SRM is ranging from the 1day chart above, and the best buying zones will be at the ranging lows and below.
The following areas marked "BUY ZONES" are the best buying zones for SRM, and it will guide your trading decisions.
Conclusion
ALT coins are purpose driven and are always created for solution purposes. It will be nice to understand that not ALT coins can survive a bearish season because of the current dominance of Bitcoin. It is advisable to look for purpose driven ALT coins, coins with realistic use cases, and hang on to them.
SRT is a promising coin and the analysis above explains why.
Disclaimer
Cryptocurrencies are volatile, you are advised to do your own research before investing on volatile currencies.
This article remains for informational purposes, and not a financial advice.