Blockchain will continue to be discussed in and out of the crypto space. Blockchain benefits to the society continues to uphold it's ground in today's technology.
This has made a lot of crypto projects to concentrate on working and easing the energy consumption of blockchain technology.
Just like in mining, enough computing power is needed, and whenever there is power generation, there is energy dissipated which often results in few amount of redundant energy.
Also, in the crypto ecosystem, we have people with high level of imagination and innovation, but have no work force to implement what they've got. This makes innovation and skills redundant like a wasted energy.
So, what happens to that innovation or imagination?
In some cases, it is wasted, while in some, it is used for other positive functions.
That's where Golem(GLM) comes into play.
In this article, we are going to discuss about the Golem network with it's price predictions from 2022 to 2025.
What is Golem(GLM) Network
Golem network is a decentralized computing network used for distributing redundant computing network to those who are in need of it.
This network tends to provide computing power in a decentralized way to everyone and every firm in need of computing power.
Golem network removes the democracy in access to resources by utilizing a pair-to-pair (P2P) network where people can come together to trade their unused (redundant) resources.
Different tasks are carried out in the Golem network through a safe and secured  P2P mechanism.
Centralization is curbed in the Golem network as no member is more superior than anyone.
GNT or Golem token is the native token of Golem network, and it is used to pay for computing power or for the completion of a chosen task.
The person who wants a task to be done in the Golem network is called a requestor, and as a requestor, you place a bid of GNT for the task you want to be completed.
The provider becomes the person to accept your BID and completes your task to be rewarded with the bided GNT.
Tokenomics of GLM
Report gotten from coinmarketcap reveal the price statistics of GLM as shown below.
GLM current price: $0.2334.
Market capitalization: $233,427,634.
Circulation supply: 1.00B GLM.
Maximum supply: 1.00B GLM.
24 hours trading volume: $33,230,203.
Why is GLM unique?
GLM is unique because it moves away from the prevalent blockchain issue to solve a unique problem of redundant computation power. The following are the unique properties of GLM;
Connecting the provider to the requester: Golem network makes use of P2P mechanism to bring people together for business purposes. In the connecting process, the requester(the person who needs a task to be done) creates a bid for the task, and the provider accepts the bid, and get paid when task is completed successfully. This makes people earn in the platform by trading unused resources than letting them redundant.
Showcase your programming skills: In Golem network, you are able to use your skills for profit making, by completing some software tasks from requesters.
Create project and let people complete them for you: The Golem network is open source and decentralized, allowing people to think of a project, lay them down, create a bid for the project, and let people complete the task for you.
GLM price prediction
After understanding everything about GLM, you may want to rush into it, why not hold on and see some technical and fundamental analysis that will guide your trade decisions.
In this article, the price prediction of GLM will be done in group; 2022, 2023, and 2025.
GLM price prediction 2022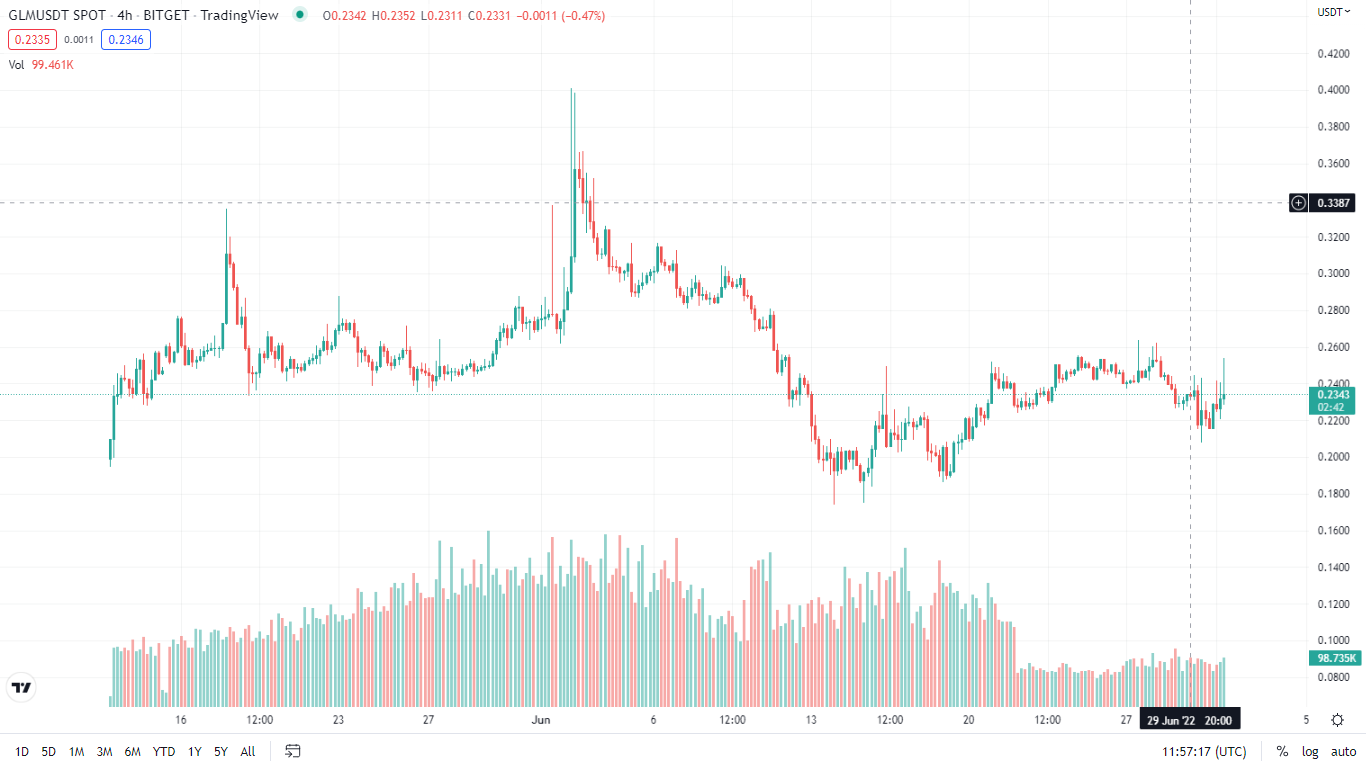 Still on a bearish market trend, we can still see the light at the end of the tunnel. GLM is a promising coin from it's tokenomics.
Fundamentally, having an early market capitalization of $233,427,634, shows how fresh and early the project is. The current price is also welcoming, as investors can expect high profit in the long run.
Also, a circulation and maximum supply of 1 billion shows a room for scarcity, which will increase the price of GLM with time.
A crypto platform utilizing a decentralized network tends to create massive adoption and interest to investors who feel secured in their investments.
GLM makes use of decentralized governance by given everyone equal right in their ecosystem.
Technically, GLM seem to have hit a strong support at the All Time Low price as a result of bitcoin's dip.
This showed the strength of GLM, as it started bouncing back to reach it's current region.
Looking at the 4hours chart, GLM seem to correcting to a new uptrend even against bitcoin's trend.
Finally, GLM is predicted to hit a price of $0.9 with an average price of $0.5 before the end of 2022.
GLM price prediction 2023
Still on existing fundamental analysis, GLM is bullish and will correct its chart pattern with time. 2023 already looking like a bullish year for bitcoin, will also help utility-driven ALTs like GLM manage their strength.
With time, the new uptrend of GLM will be awakened and strengthened to further the price with its tokenomics.
GLM is predicted to hit a price of $1.2 with an average price of $1 by 2023.
GLM price prediction 2025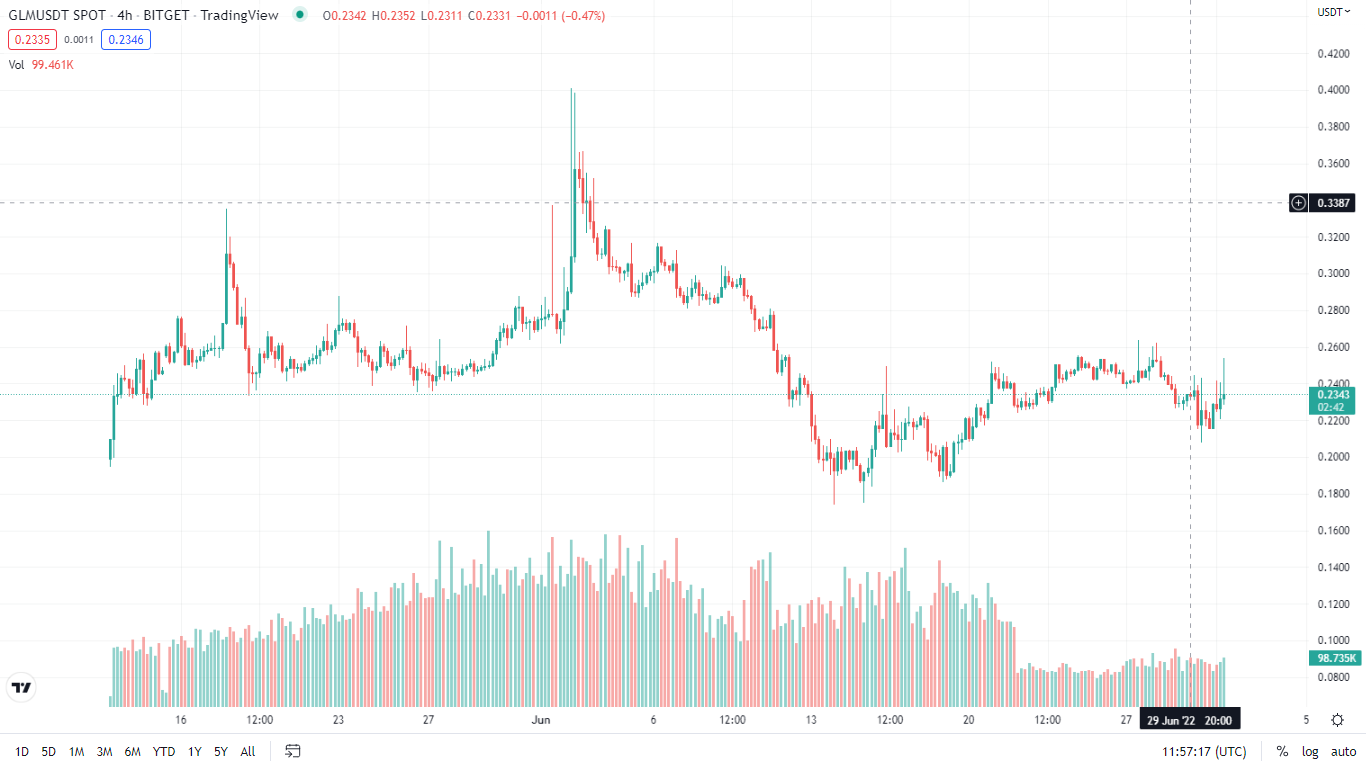 2025 won't be a bad year for ALTs are bitcoin's dominance is predicted to reduce by this time. This works hand in hand with the fundamental analysis of GLM.
GLM's market capitalization will exceed a billion, to confirm bullishness by 2025. The increasing market capitalization will also make way straight as the circulation supply remains scarce(1BGLM).
Finally, GLM is predicted to hit a price of $5 by 2025 with an average price of $3.
Should I buy GLM?
Just as we said earlier, price predictions are the guidance you need before making your final buying/selling decision. The fundamental and technical analysis done shows how promising GLM is, and buying GLM is not a bad idea. You just need to understand the buying zones of GLM.
Fortunately, the buying zones of GLM will be shown below.
Where to buy GLM?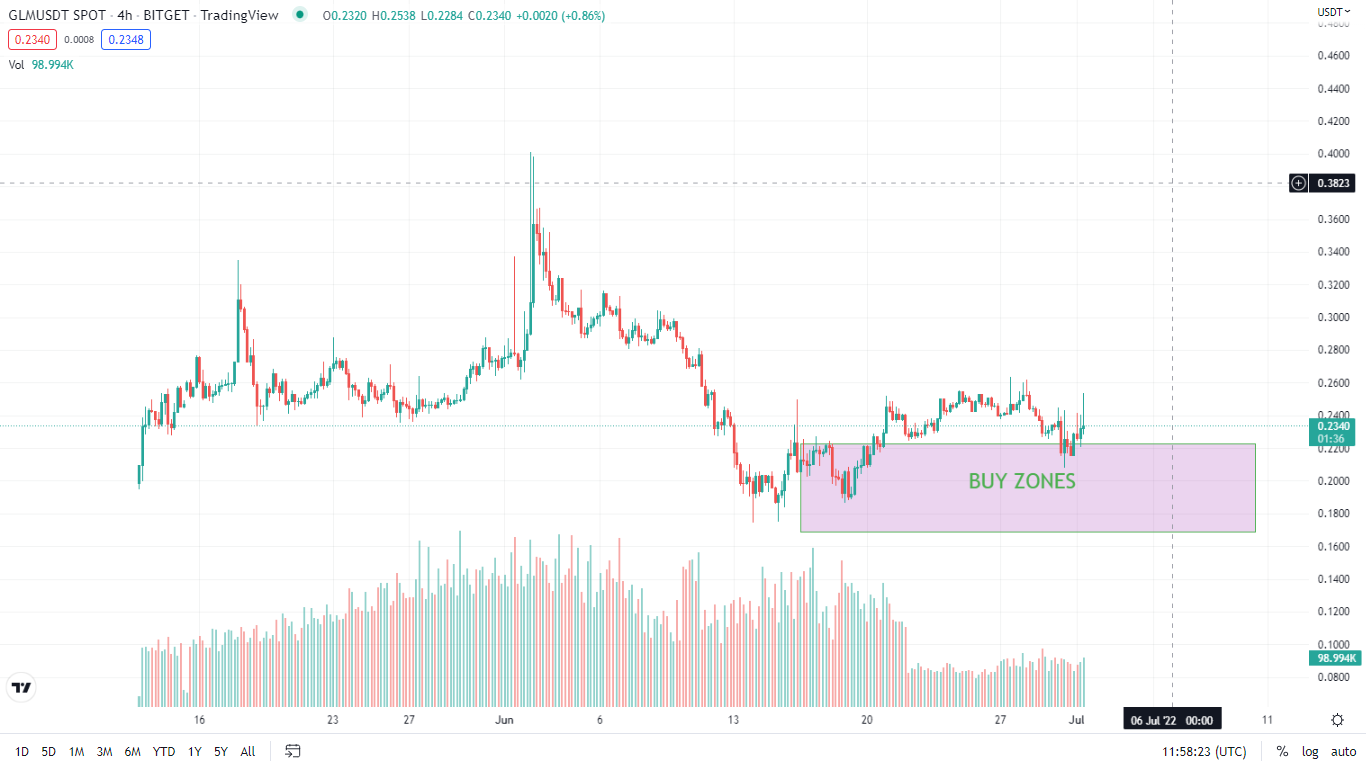 From technical analysis, GLM has hit a new support, which has confirmed the strength of the new support. The buying zones for GLM is marked above, and it is convenient point for opening a new position for GLM.
Conclusion
The utility of a coin happens to be why people venture into it. GLM is promising and the use case shows how bullish it is, for the long term, considering bitcoin's current dip.
Disclaimer
This article is for informational purposes, and not a financial advice. You are to do your own research (DYOR) and trade at your own risk.