Decentralization, as projected by crypto currency developers, is not fully achieved or realistic until the privacy of users are intact.
This is a concern to the masses and investors as well, because privacy is a core requirement for decentralization.
When it comes to decentralized finance(DEFI), a lot of platforms have been built in the crypto space to execute financial transactions like loans, staking, etc. without  intermediary, making transactions secured and private.
But how private and is Defi?
This doesn't mean Defi systems are without bugs or not, but the goal is to do what we say we are doing.
Also, all data in a public blockchain are open to everyone, and KEEP solves the blockchain data adoption issue.
KEEP network is a platform concerned about privacy in blockchain networks. It tends to put the privacy of users in heart by creating a private storage platform for data.
In this article, we are going to discuss about KEEP with it's price predictions from 2022 to 2025.
What is KEEP?
KEEP protocol is an off-chain house that keeps data private from the main chain(blockchain). KEEP allows smart contracts to use private data without compromising privacy with the public chain.
According to KEEP, they are the only protocol with full decentralized potentials.
The Data storage done by KEEP protocol makes use of a fully encryption level, to be able to ascertain the privacy of any given data.
This is because, Defi or DAPPs protocols carry out different operations which exposes data which are to be private. So, KEEP protocol will help preserve the information from the public blockchain.
So far KEEP has proven to be a force in the decentralization ecosystem, by creating a Bitcoin-Ethereum bridge called tBTC.
This guarantees  interoperability between Bitcoin and the Ethereum blockchain, giving Bitcoin holders a taste of Ethereum smart contract offerings, since Bitcoin can't have a smart contract of it's own.
$KEEP is the native token of KEEP protocol, and it is built on Ethereum blockchain to power the KEEP network.
Tokenomics of KEEP
The below items are the price statistics of KEEP, coinmarketcap revealed.
KEEP current price: $0.2104.
Market capitalization: $166,886,951.
Fully diluted market capitalization: $210,401,829.
Circulation supply: 793,182,035.63 KEEP.
Maximum supply: 1,000,000,000.
24 hours trading volume: $8,469,206.
Why is KEEP unique?
The uniqueness of KEEP is not far from it's privacy offerings. Below are some unique properties of the KEEP protocol;
No compromise in security: Other platforms are concerned about the privacy of data as they relate with blockchain, but KEEP protocol accounts for a complete security of data by using the highest level of data encryption. KEEP also revealed that they have obtained sensitive amount of audits by prominent crypto audit firms.
Full decentralization: KEEP poses to be the only platform that is fully decentralized. This they said because of their off-chain privacy policy functions. With this, they can't compromise with the privacy of data, since they are not an on-chain protocol. So, KEEP keeps data private from the public blockchain.
Dapps and Defi secured: When it comes to safety of data, Defi and Dapps developers shouldn't have the keys. This is why the KEEP network features an off-chain protocol to help the data used in Defi and dapps to be private and safe from the public blockchain.
KEEP price prediction
The price predictions of KEEP are guidance to your trading decisions, as it concerns KEEP.
With fundamental and technical analysis, KEEP's price predictions will be grouped into; 2022, 2023 and 2025.
KEEP price prediction 2022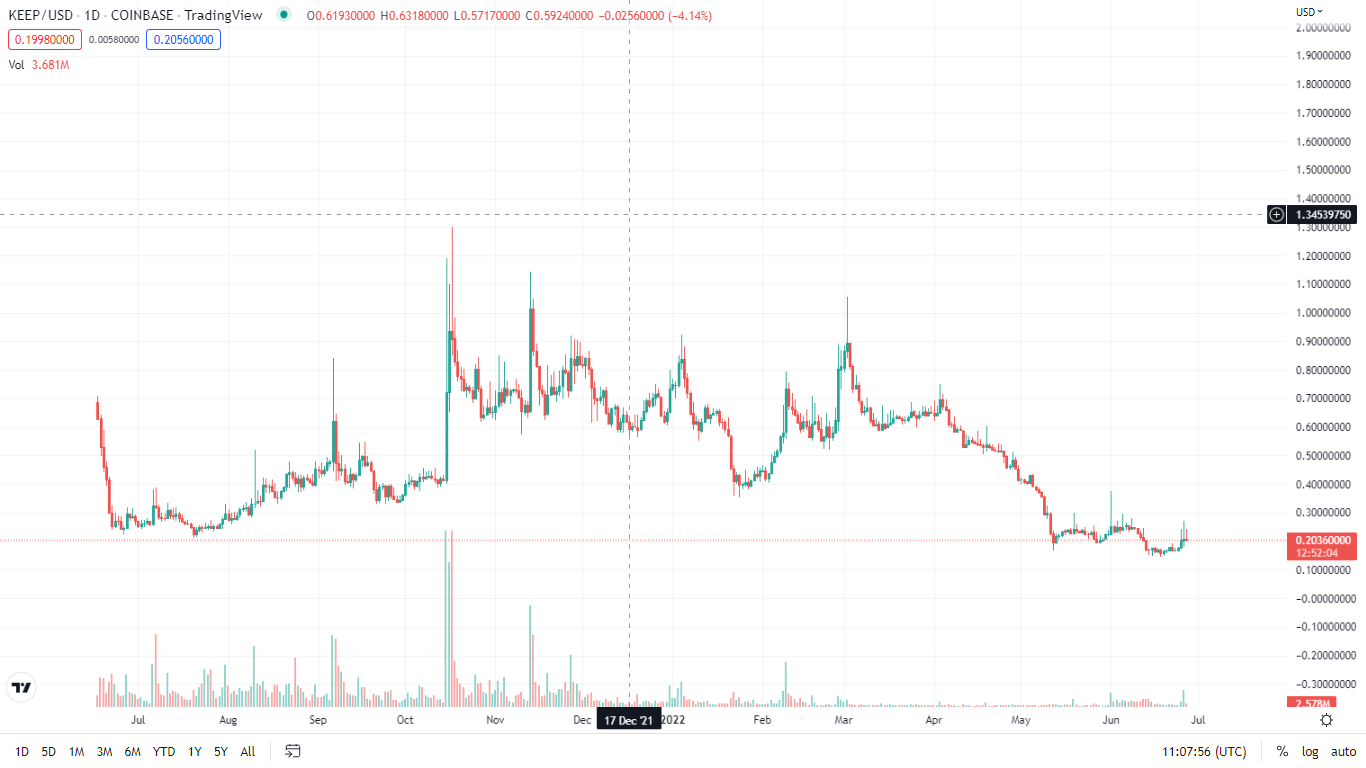 KEEP's potential is amazing, notwithstanding the fact that some developers don't really put data safety in mind or at a esteem.
Fundamentally, the low market capitalization of KEEP, shows the low number of investor holding KEEP. This should take people off, but it is a fundamental turn-on. This gives rise to early investors and holders to come into the project before it hits a billion market capitalization.
Also, the circulation supply of KEEP is very low, and a cause for scarcity, leading to high level of demand in the long run. This makes KEEP fundamentally bullish indeed.
Also, the successful nature of KEEP's first project, tBTC, shows how committed the developers are, and how governed the project could be.
Technically, KEEP was on a ranging market, and has changed its trend because of the early Bitcoin Dip. This has closed the old support lines to form new support as shown in the chart above.
The new support confirms the incoming bullishness of DIP, and it shows confluence with Bitcoin chart pattern.
Finally, with fundamental and technical analysis, KEEP is predicted to hit a price of $1 with an average price of $0.5 before the end of 2022.
KEEP price prediction 2023
The sudden bearish impulse from Bitcoin's dip will be slowly closed. This means that a new bullish trend will evolve soon. The sustainability of KEEP's protocol is more fundamental from tokenomics and developers policies.
This makes KEEP an early bullish project.
KEEP is predicted to hit a price of $2 with an average price of $1.3 by 2023.
KEEP price prediction 2025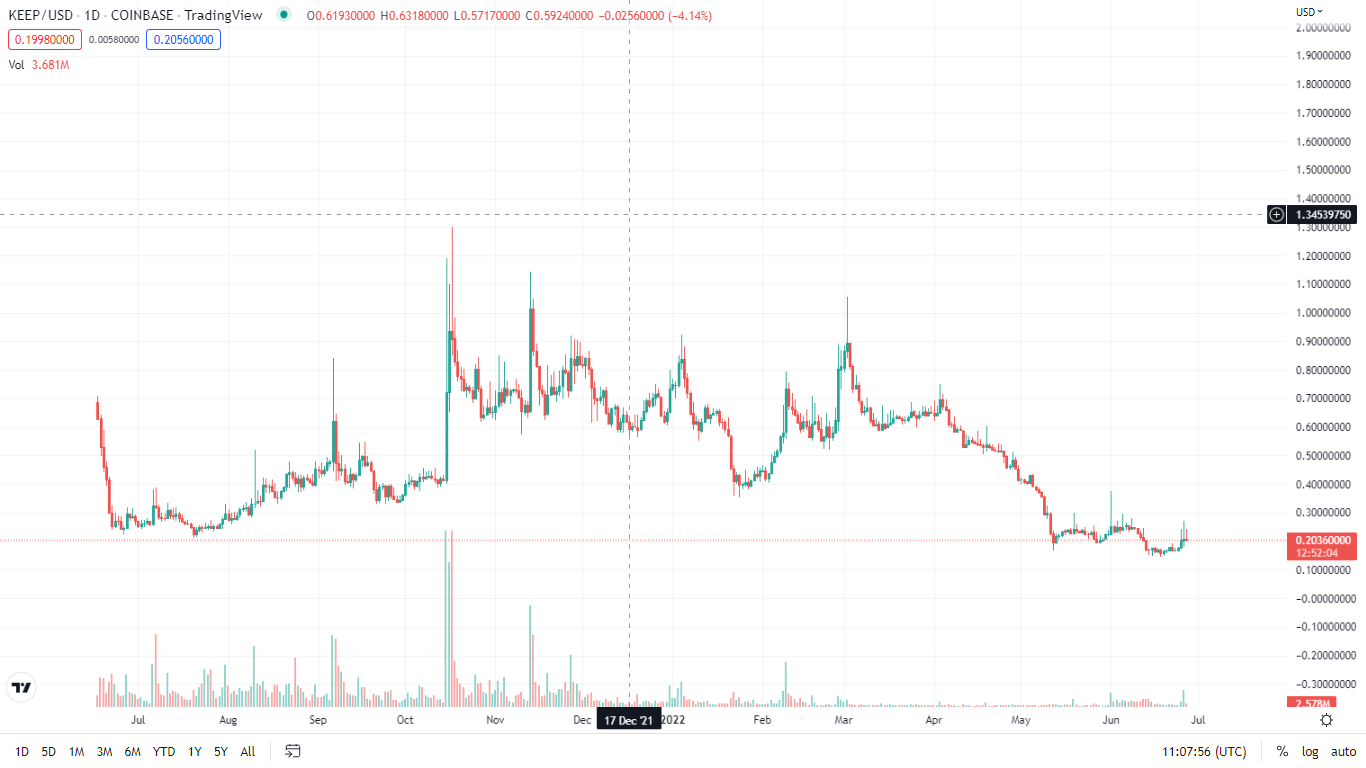 2025 seems to be a year of crypto balance. Where all deformed chart patterns would be addressed by relative crypto impulse.
By 2025, the market capitalization of KEEP should be above a billion, causing a massive increase in the price of KEEP. Also, with the circulation supply, KEEP will tend to do well in price, according to demand and supply.
The current All Time High (ATH) will be surpassed by 2025 according to financial and technical analysis being made here.
Finally, KEEP is predicted to hit a price of $5 with an average price of $3 by 2025.
Should I buy KEEP?
From the fundamental and technical analysis done above, buying KEEP is not a bad idea, as the coin looks promising in and outside the charts.
You might only need a good buying zone for KEEP, that is, if you consider buying from analysis made.
Fortunately, we are going to discuss the best buying zones for KEEP below, to guide your buying decisions.
Where to Buy KEEP
If you want to buy KEEP, you need to ensure you find a good entry point with technical analysis.
From technical analysis done by cryptoforpidgin, the above marked areas are the best entry points (Buy zones) for KEEP.
Conclusion
We are interested with developers who value data privacy, and KEEP seems to value privacy by offering different decentralized goodies.
KEEP is promising, and the above analysis done confirms that.
Disclaimer
This article is for informational purposes only, and not a financial advice. Cryptocurrencies are volatile, so do your own research(DYOR) and trade at your own risk.