We are in a crypto world where ALT coins are developed everyday to help solve different issues.
The prevalent issue being solved is the issue of Bitcoin, not being able to run smart contracts and decentralized apps.
This was the reason for the launch of Ethereum, who happen to be the first smart contract blockchain, and it's loved for that.
In a world where Bitcoin is loved even with it's shortcomings, Stacks(STX) tends to curb those short comings by building dapps and smart contracts on Bitcoin blockchain.
Therefore, STX tends to show everyone the full potential of Bitcoin by bringing dapps and smart contracts to Bitcoin blockchain.
In this article, we are going to understand Stacks (STX), and its price prediction for 2022-2025.
What is Stacks( STX)
STX is a layer-1 blockchain bringing dapps, NFT's, smart contracts , and defi into Bitcoin.
STX, previously known as BLockstacks and rebranded to Stacks by 2020, is a solution for Bitcoin, and uses Bitcoin as it's base layer.
Blockstack PBC was founded by Muneeb Ali and Ryan Shea, coinmarketcap revealed.
Just like other platforms, Stacks uses it's token STX to create smart contracts, perform transactions and activate registration of new digital assets.
Since STX is the currency that fuels transactions, it means that Stacks has it's own blockchain, called Stacks 2.0, but uses Bitcoin as a base layer.
Stacks is a layer one blockchain built on Bitcoin without having anything to do with the transparency and security of Bitcoin, having a separate blockchain makes this possible.
Tokenomics of  Stack (STX)
The following are the price statistics of STX, from coinmarketcap.
STX current price: $0.3398.
Market capitalization: $448,304,707.
Fully diluted market capitalization: $617,763,634.
Circulation supply: 1.32B STX.
Maximum supply: 1.8 B STX.
24 hours trading volume: $50,977,902.
Why is Stack(STX) unique
The uniqueness of stack is that it is a layer one blockchain bringing full decentralization to the Bitcoin network. Other points are;
Bringing NFT's, Dapps, Defi, and smart contracts to Bitcoin: Stacks bringing or solving the prevalent Bitcoin inadequacy is a big turn-on to us. Bringing decentralized goodies to Bitcoin is a high level of uniqueness.
Allow developers create on already created applications: This activity is deemed impossible for other network but no the stacks network. This is why Stacks is open and modular to allow developers build on already created apps to develop new features.
Proof of transfer (POX) consensus mechanism: Stacks blockchain consensus mechanism is based on the two well known mechanisms, which are Proof of stake(Stackers in this case) and Proof of work(Miners). In this case, the miners in stack blockchain doesn't mine unlike Bitcoin miners, they only exchange the already mined Bitcoin and commit it for a chance to earn STX tokens. This is a unique mechanism of the stack ecosystem.
STX price prediction
To predict STX price, fundamental and technical analysis will be executed. The price predictions of STX will be grouped into 3 parts; 2022, 2023 and 2025.
STX price prediction 2022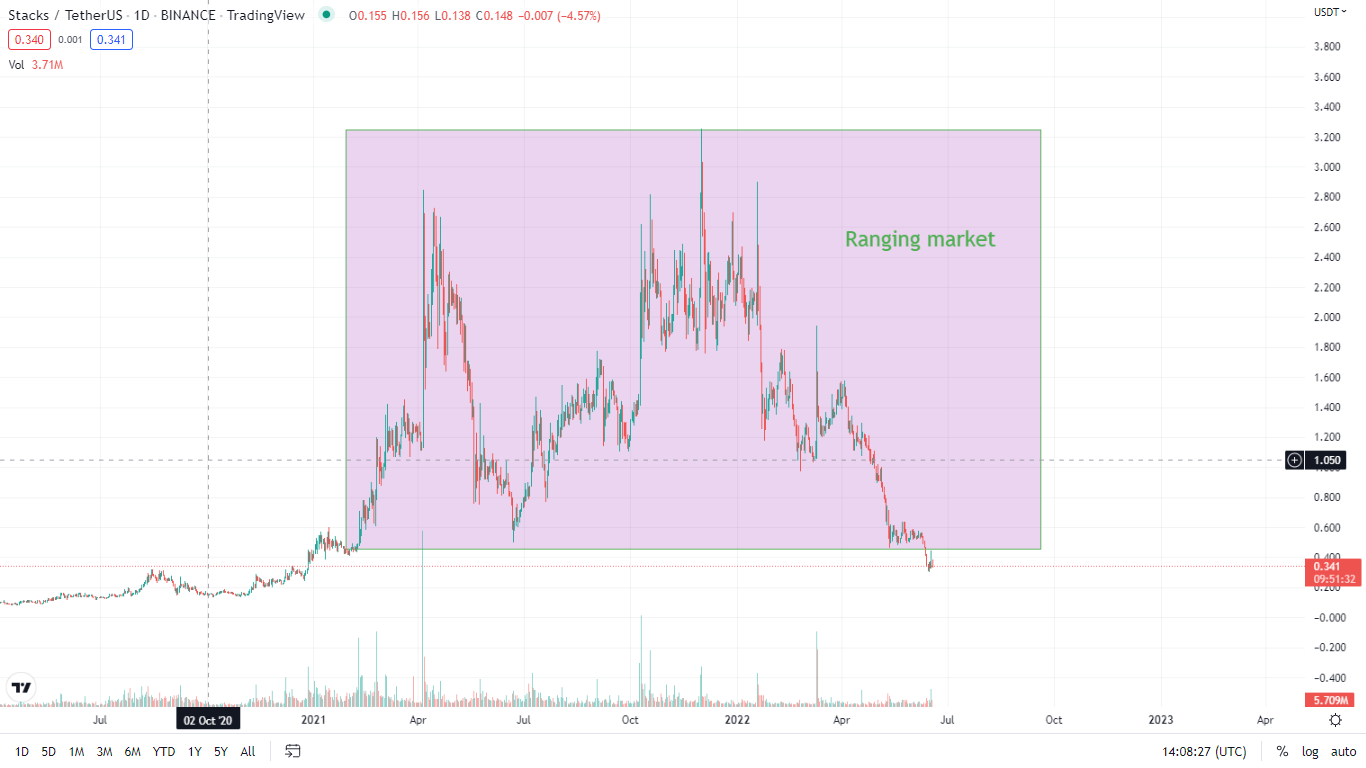 Stack is a fast rising cryptocurrency that has been ranging from the 1day price chart. Technically, Stack is ranging and has hit a buying zone, which is the ranging lows. Although, it came out to be hit during Bitcoin Dip that has taken it lower once more. But Stack is currently bullish from technical analysis, just waiting for the BTC impulse.
The technical analysis shown above, shows the ranging zones with the present accumulation zone.
Fundamentally, the market capitalization and circulation supply seem to effect scarcity in the long run for stacks. And the team governance/commitment is strong especially for the security being offered because of Bitcoin layer one chain.
Fundamentally, Stack is also bullish and will be more in years to some.
Finally, from fundamental and technical analysis, Stacks is predicted to hit a price of $1.5 with an average price of $1, before 2022 runs out.
STX price prediction 2023
As always perceived, after Bitcoin huddles by 2022. 2023 feels to be a bullish era. Still on existing analysis, Stack will fair very fair in the weather of 2023. Stack is predicted to hit a price of $3 with an average price of $2 in 2023.
This is not far from the fundamentals of Stacks and the solid technical developers.
STX price prediction 2025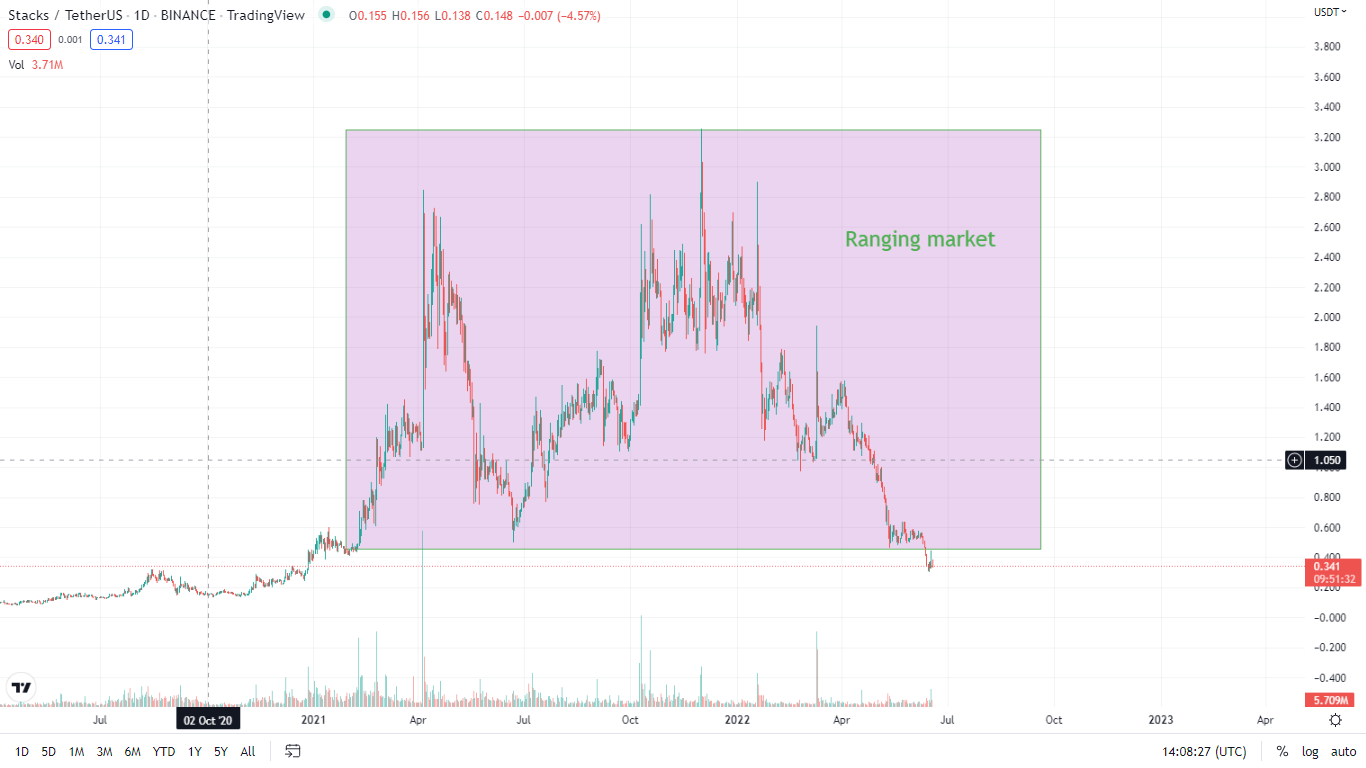 Beyond 2023 seems to be super bullish, as the market capitalization of stack would have exceeded 1billion, to cause a price increment with confirmed technical analysis.
From sensitive predictions with analysis, Stack will hit a price of $7 with an average price of $4 by 2025.
This is not far from crypto adoptions, technical analysis and Bitcoin dominance.
Should I buy STX?
This might be going through your minds now, and it is also being answered too. Looking at the analysis given above, you should know the answer to the question. Although, buying STX is not a bad idea especially from technical analysis. The only issue is where to buy STX? What buying zones to open a buying position?
Fortunately, we are going to answer that question below.
Where to buy STX?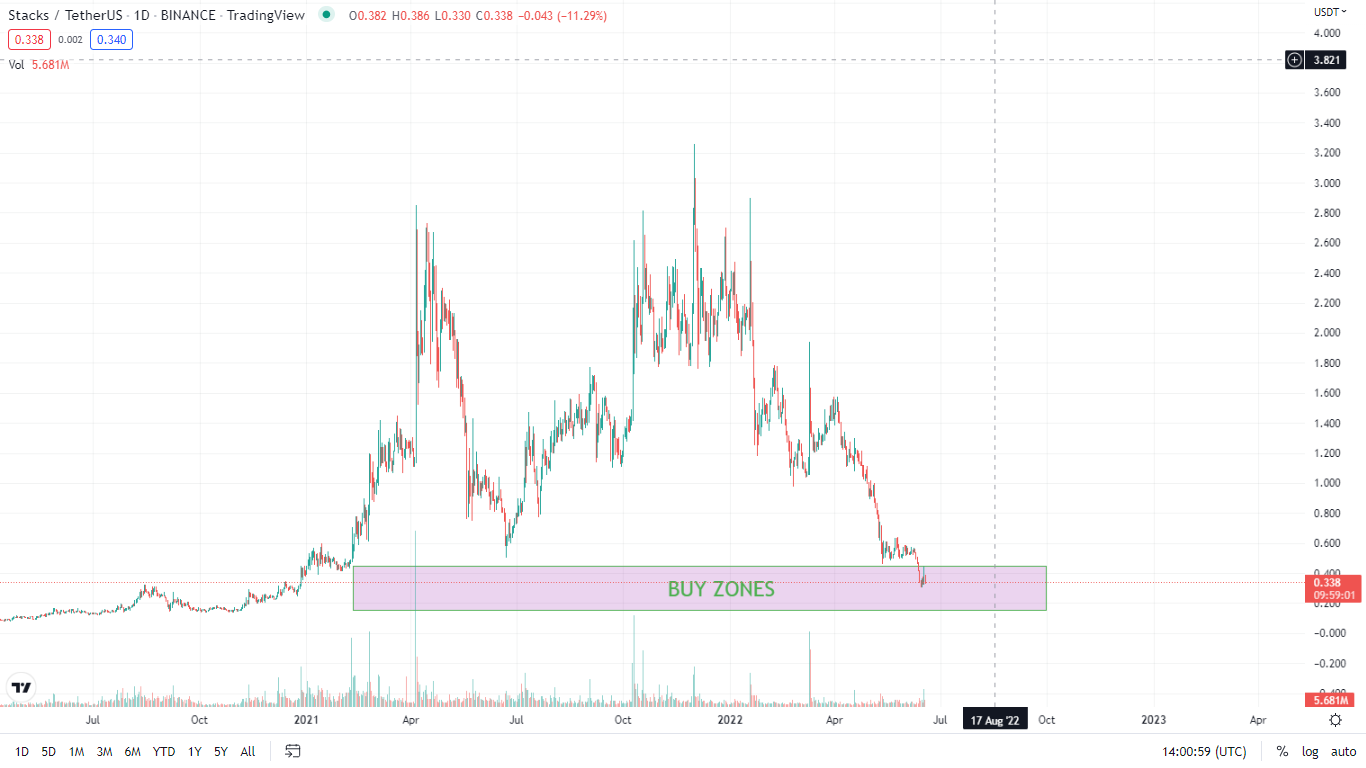 According to technical analysis from 1day STX price chart. STX is ranging, and has reached the bottom range zones, which is buying trigger action. But Bitcoin dip happen to let it slide down further, which is another good buying trigger. The best buying zones for STX are shown in the marked out areas above.
Conclusion
We are in a world where people or crypto currencies are recognized by the problems they solve. STX is one of the problem solvers and we have discussed about it today.
Disclaimer
This article is for informational purposes only, and not a financial advise. You are hereby advised to trade at your own risk and do your own research (DYOR).