Blockchain technology has proven to be secured with superb benefits. Cryptocurrencies coming up are built on existing or personal blockchains. With this, without blockchain, there is no such things as cryptocurrency.
IOTA happen to be a revolutionary blockchain, whereas it is not a blockchain itself, but it is distributed ledger enabling exchange of data securely without fees.
This has been confusing people, since blockchain itself is a distributed ledger, so why is IOTA not a blockchain itself?
Answering this, IOTA uses a blockchainless blockchain technology called Tangle, which uses a mathematical concept known as Directed Acyclic Graphs (DAG).
In this article, we would be discussing about IOTA and it's price predictions for 2022-2025.
What is IOTA?
IOTA is paradigm shift from from blockchain to the internet of things. IOTA currency will be able to exchange data between sensor machines in the internet of things space/ecosystem.
IOTA, having four CO-founders namely; Sergey Ivancheglo, Serguei Popov, David Sønstebø and Dominik Schiener.
As said earlier, IOTA is a blockchainless blockchain, which means it makes use of a technology called TANGLE. And it removes the effect of miners in the system, which makes transactions gas-fee free, unlike prominent blockchain networks.
How IOTA approves transactions
Other existing blockchains makes use of either a proof of work or a proof of stake consensus policy. Which means, miners solves mathematical problems before authenticating or adding a new block. But in the case of IOTA, for a transaction to be valid or added to a block, each computer network (node) in a DAG Tangle must approve two previous transactions at other node, investopedia revealed.
How unique is IOTA
IOTA claims to be unique with what they say they offer. The following are the uniqueness of IOTA.
No mining fees: Since there is no proof of work consensus protocol, IOTA proposes to be network charge free during operations.
Scalability: The normal scalability problem from older blockchains are solved in IOTA, as you can run several transactions easily and on time.
Data sharing between the internet of things: IOTA proposes to share data simply between objects that have sensors. An IOTA vending machine was used to confirm this, as it was able to dispense soda without transaction cost.
Tokenomics of IOTA
Reports gotten from coinmarketcap revealed the following market statistics for IOTA.
Current IOTA price: An early price of $0.2676.
Market Capitalization: A sweet market capitalization of $742,066,393(Not above a billion market capitalization).
Fully diluted market capitalization:$741,567,970.
Circulation supply: 2.78B MIOTA
Now we understand the market price statistics of IOTA, lets move to the topic of today.
IOTA price prediction 2022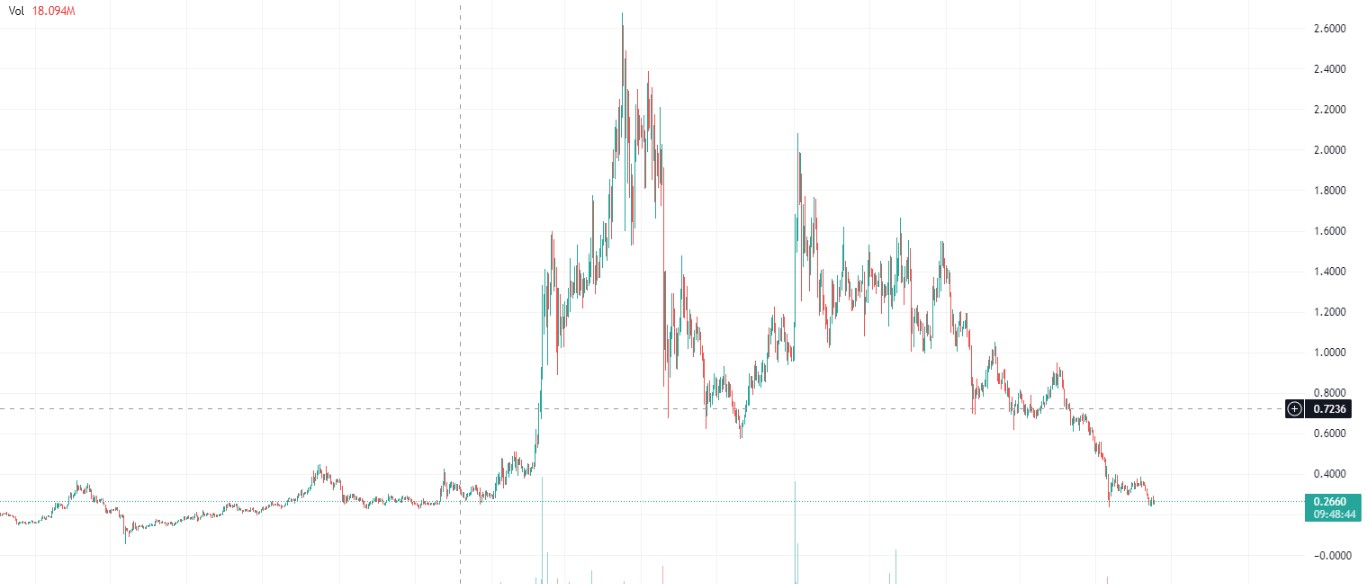 The tokenomics of IOTA looks very promising and it gives us a fundamental clue about IOTA price prediction.
Fundamentally, the governance and the external developers of IOTA is a big bullish setup for IOTA.
An interesting market capitalization below $1B is a good factor for investors to come into play. IOTA having a market cap above $1B is another bullish momentum.
Technically, IOTA is on a downtrend, closing on an old time support. This means that, soon price will bounce from the support to get a bullish momentum.
Also, the recent bitcoin dip is trying to maintain the $20k to create an accumulation zone where buyers and sellers are indicative.
BTC will rebound soon or later to favour other coins which have gained or is close to their support, just like IOTA.
Finally, with TA and FA, IOTA will attain a price of $1 and an average of $0.5 before 2022 runs out.
IOTA price prediction 2023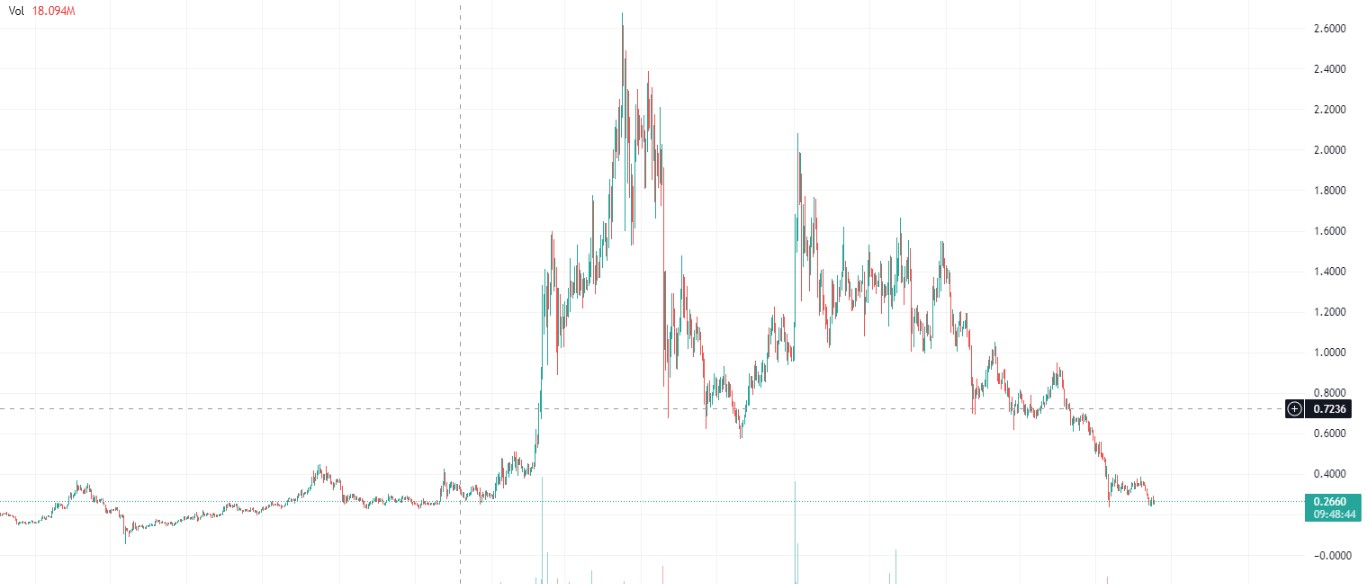 IOTA is likely to reclaim the bullish trend based on fundamental and technical analysis. By 2023, there will be massive adoption of the blockchainless blockchain, as electrical motors and other internet of things will be able to exchange data through IOTA. By 2023 IOTA is predicted to hit $2.5, with an average price of $1.6. This might not be an up limit, but it is a sure down limit.
As a big selling impulse got the market, so will a corresponding buying impulse influence the market, to fill up all spaces and correct the sold zones.
IOTA price prediction 2025
Just as we predicted for 2023, so will 2025 be and more bullish momentum will be gained by 10TA.
The fundamental and technical factors backing up IOTA are solid, and investors can't wait to hold IOTA. The tokenomics, scalability, transparency, everything seems to say well about the coin. This was confirmed also buy technical analysis.
Meanwhile, from analysis, IOTA is predicted to hit a price of $7 with an average price of $4 by 2025.
Should I buy IOTA?
This question can be answered easily, as coins that are analyzed here are coins with value. Buying IOTA is not a bad idea after carefully studying the fundamental and technical analysis above. This should give you a hint or your buying choice. Although, buying is not always the problem, but the zone to buy from is. So where should I buy IOTA?
Where should I buy IOTA?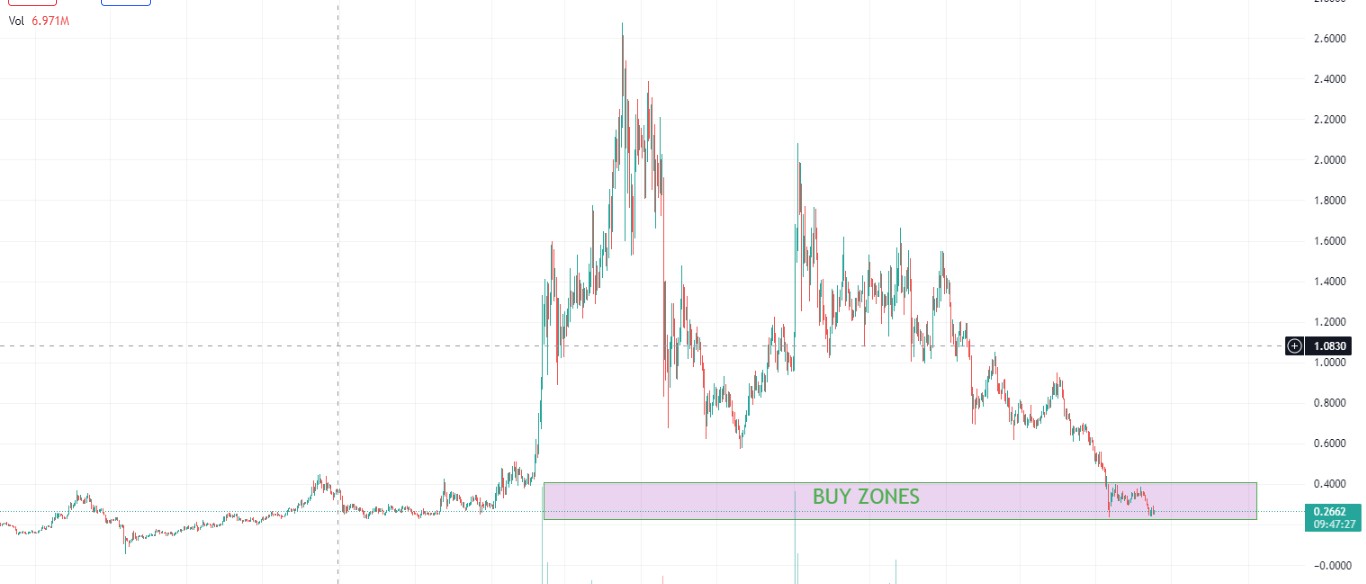 Before buying a coin you need to understand where to buy. Jumping on a coin after a prediction is not really a good idea, except the prediction came with a buying zone trigger. It is good to look for a better place to enter a coin to avoid buying regrets.
The following zones are labelled buying zones, and they are the good places to buy IOTA if you wish to buy.
Looking at the chart, IOTA has tested the first support which broke to a newer one and we are expecting the new support to be respected.
Finally, buying at those given zones is a smart move and will yield success more than you can think of.
Conclusion
IOTA is a promising coin and the governing mechanism is top notch. If you have no idea about IOTA, you have known it now. Buying IOTA lies on your judgment, using the analysis and predictions here as a case study.
Disclaimer
This article remains for information purposes and not a financial advice. You are therefore advised to do your own research, and trade at your own risk.