Stable coins have proven to be a hedge over inflation due to lower volatility than all other cryptocurrencies. This have made many investors to look out for stable currencies pegged to dollar (1:1). Maker protocol offers DAI to people, a stable currency also pegged to dollar(1DAI = $1).
Although, after recent plunder on stable currencies, investors are becoming more skeptical, why some still find them friendly than other cryptocurrencies.
Right from the surge of Defi, a lot of organizations have been striving to build decentralized apps or currencies using the Ethereum network.
Ethereum, the core defi currency has been a parent to all other defi coins, using it's blockchain as a tool for decentralization.
In this article, we are going to understand Maker token, and lay out some fundamental and technical predictions from 2022-2025.
What is Maker MKR?
Maker MKR is a fast rising decentralized governance token of the MakerDAO and the Maker protocol. MKR is built on the Ethereum blockchain to offer transparent and decentralized stable currency called DAI.
Maker is community driven which gives it a force in the decentralization movement. Maker was founded in 2015 and was fully launched in 2017 for the DAI project. This makes Maker a DAI project.
Maker token, called MKR is not used in paying dividends to holders, but it acts as a voting share for the managers of DAI.
Finally, gives users the right to generate and manage Dai by leveraging approved collateral assets.
Tokenomics of Maker
Tokenomics is a great fundamental tool and should be taken into consideration during fundamental analysis and before price predictions. Reports from coinmarketcap shows the MKR price statistics of;
Current Maker price: $745.32
Market capitalization: A sweet market capitalization of $728,644,677
Full diluted market capitalization: $749,473,268
Circulation supply: 977,631.04 MKR
Why is Maker unique?
The uniqueness of a cryptocurrency lies in the level of decentralization. Maker takes decentralization on a pedestal.
Maker takes no decision from a central authority, as it allows members/holders to partake in the governing process of DAI. Every holder has the right to vote on any changes in the Maker protocol. Although, their voting right or power is dependent on the amount of MKR staked. So MKR acts as a voting share and not for dividends.
What is DAI?
DAI is a decentralized stable currency managed my a community. It is not volatile like other cryptocurrencies because it is softly pegged to dollar.
DAI has become so popular, surpassing USDT, world's largest stable coin by market capitalization, in number of active addresses.
Maker price prediction 2022
MKR is currently on an old downtrend and will continue because of Bitcoin correction. Although, FA and TA shows a soon coming bullish bounce.
From fundamentals, the low market cap shows a good buying point for investors to push Maker to a good price. Also, having a sweet circulation supply of  977,631, will create scarcity and increase in demand to boost the price of MKR.
While from technical analysis, the downtrend will halt soon as an old time support will be revisited soon, to change the old downtrend to an uptrend. Also, as Bitcoin is being corrected, MKR seem to follow same correction pattern to close downtrend to bullish trend soon. With FA and TA being done, MKR will hit a price prediction of $1500, and an average price of $1000 before the end of 2022.
Maker price prediction 2023
The above analysis will be put into place for MKR 2023 price prediction.
Maker's correction will be over before 2023, and this will induce a bullish momentum for the coin. By 2023, with fundamental and technical analysis, MKR price is predicted to hit $2500 with an average price of $2000.
Maker price prediction 2025
The fundamental factors holding MKR token is so strong. This is seen by the huge price with a little market capitalization, because of the scarcity in coin circulation. MKR will continue to increase in value, and it is predicted to surpass Ethereum's price by 2025. Technically, after the close of the current downtrend, MKR will slowly or swiftly move to the previous or new all time high (ATH) by 2025.
To become certain, by 2025, MKR will clinch a price of $4500, with an average price of $3000.
Should I buy MKR?
The decision of buying a cryptocurrency should not be taken in a rush, as cryptocurrencies are volatile and not always predicted correctly. Maker has proven to be transparent and decentralized with a focused and committed community. Buying MKR is not a bad idea, especially in the current Bitcoin correction.
Although, buying is easier said than done, as you might not know when to enter the market or where to open a position. Fortunately, we would guide you on a good buying zone to purchase MKR if you want to.
Where to buy MKR?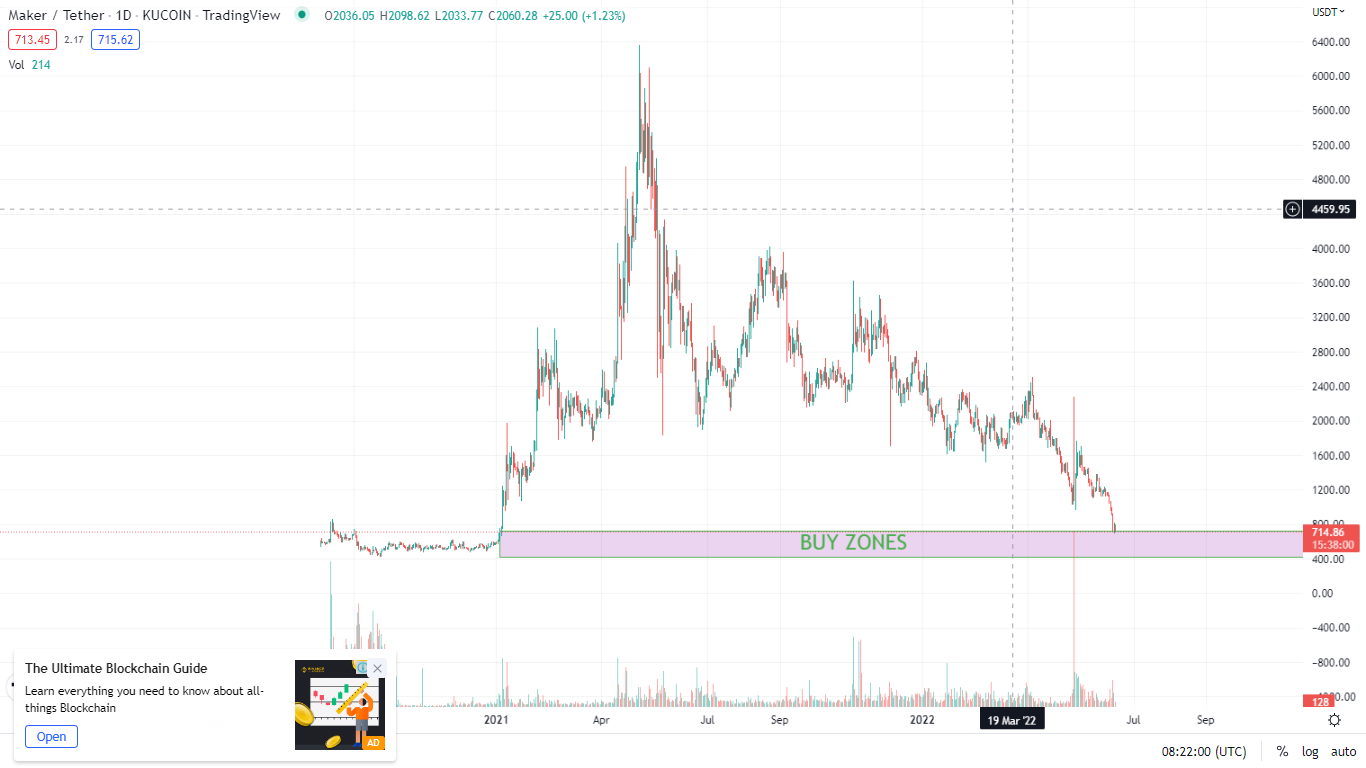 Buying is a sensitive operation and requires good fundamental and technical analysis. In the case of MKR, fundamental stresses more on a buying signal why technical analysis focus on the buying zone shown above.
You can buy MKR from $505 above as shown in the chart above.
Conclusion
The crypto space has gained ground and it's been analyzed by both technical and fundamental analysis. Over the years, technical analysis have proven to be a core analytical tool, but recent results have shown fundamentals to be preferred for long term results. However, you are to take both into consideration in your trading journey.
Disclaimer
Cryptocurrencies are volatile and hard to predict correctly. You are to do your own research (DYOR), and trade at your own risk. The above article is for informational purposes and not financial advice.