Price predictions are the guidance you need before opening any trade position.
The issue of technical analysis is a core function of predictions.
We normally say that technical analysis is the act of using the previous happenings of the market to judge or predict the future of the market. It surprises us how these predictions work well after all. No matter what you do in the crypto space, it is based on predictions.
Fundamental analysis tends to hold ground more because of how it shifts smoothly away from prediction, unlike technical analysis. Technical analysis will continue to be a prediction exercise directly or indirectly.
Right from the blockchain revolution, Bitcoin became the foundation, being the first cryptocurrency with a blockchian. Since then different cryptocurrencies started boozing out with or without their own blockchain.
Ethereum, the second big cryptocurrency after bitcoin has seen massive bullishness for it's versatile blockchain utilities.
Fantom a fast rising cryptocurrency which has it's own blockchain becomes the talk of town currently.
Although, after the recent dip, the flying Fantom became a low value currency, to start a new struggle and no one expected that.
Today, the Fantom believers are shaking while Fantom skeptics are smiling as things are working in their favour.
If you are confused about the future of fantom, and you need a sincere price prediction for Fantom, then you are in the right place and this article is for you.
What is Fantom?
Fantom(FTM) is a fast rising cryptocurrency tending to be like Etheereum, as it strives to issue same decentralized features of Ethereum.
Fantom, is a decentralized blockchain offering goodies like cross-chain bridges, decentralized exchange, NFT's, yielding, lending and burrowing, gamefi, wallets, etc.
Utilizing the proof of stake consensus mechanism, Fantom has shown massive bullishness right from it's ICO in 2018, as the staking and DAPP interface has gained relevance.
The issue of gas fees and scalability cannot be seen on Fantom, as data from Fantom block scan reveals a faster block time of under one second and gas fees at a fraction of a cent(about $0.001).
With this, the prevalent network congestions on other blockchains is curbed to some extent on the Fantom blockchain.
Security is a factor in the blockchain system, and the consensus mechanism (proof of stake) reveals how secured it is, utilizing the lightweight Lachesis algorithm.
Fantom, at the current stage utilizes about 64 blockchain validators which is lesser than Ethereum and Avalanche, which has 6,161 and 1,208 respectively.
NOTE: Validators changes from time to time.
Meanwhile, becoming a Fantom's blockchain validator will cost you a minimum bondage of 3,175,000 FTM(proof of take consesus mechanism).
Tokenomics of Fantom(FTM)
The tokenomics of Fantom reveals some fundamentals and should be studied clearfully.
From coinmarketcap, the following data were obtained;
FTM current price: $0.3323, as at the time of this article; Still early to open a position.
Market capitalization: $841,349,634; A nice market capitalization showing investors commitment to the project, and also revealing the early stage to join the trend.
Fully diluted market capitalization:$1,050,599,518
Circulating supply: 2.55B FTM ;A very large supply that shows little scarcity.
Maximum supply: 3,175,000,000; A large supply also.
Fantom crypto price prediction 2022
For predictions to be made, fundamental and technical analysis needs to be done. Fundamentals seems to be off the chart to understand everything about the project.
Fundamentally, Fantom is fast growing and will do well. The market capitalization is still fresh and the price will sky rocket when much position is held by investors. Fantom striving to be an alternative to Ethereum is also bring full decentralized features, creating a fundamental gain for the project.
Fantom, also is volatile and Bitcoin dip seems to affect it more than few ALT coins.
Technically, Fantom has been on a down trending market, as it is slowly heading for a old time support at the $0.25 region (not really feasible, except Bitcoin dip continues).
At that 0.25 point, there is full support there that can force FTM to a good bullish point. The momentum needed to push fantom high is still close, from the 0.29 below.
After sensitive and careful analysis done on FTM, before the ending of 2022, Fantom will clinch a max price of $2 and an average price of $1.
Fantom crypto price prediction 2023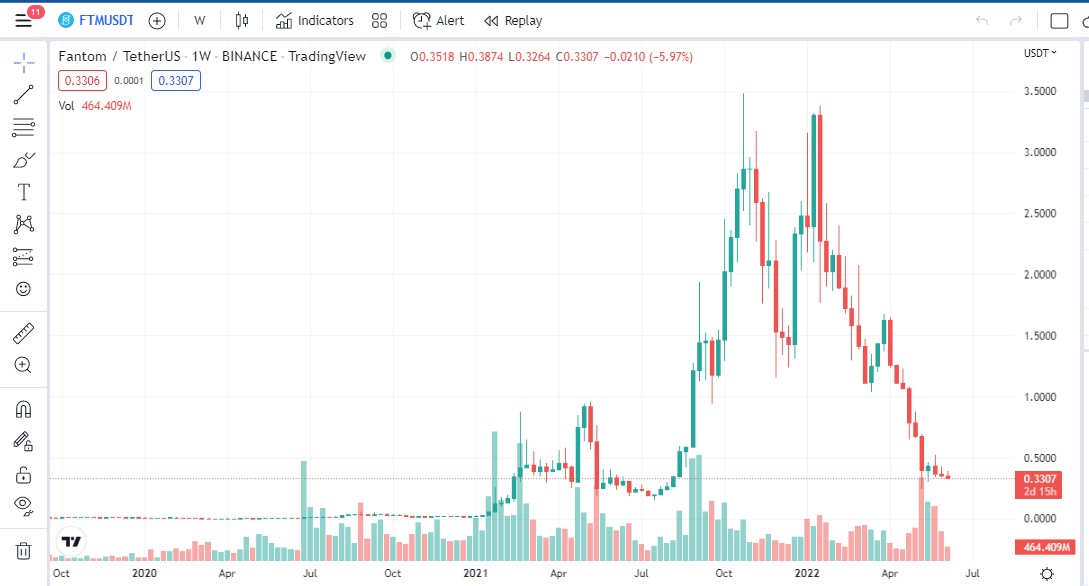 2023 positions to be a bullish year for cryptocurrencies, and considering other technical and fundamental factors, FTM will clinch a maximum price of $4 and an average price of $2.5.
Fantom crypto price prediction beyond 2023
As cryptocurrency continues its massive adoption, with decentralized finance being adopted. The paradigm shift will boost defi coins, especially the ones with their own blockchain. FTM built on Fantom blockchain will clinch good points to a new ATH other than the previous ATH of $3.49.
Should I buy Fantom?
A very good question indeed. Fantom is fast rising and with everything being said above, buying will not be a bad idea, especially if you are buying to hold long term. The only thing to note is that, the cryptocurrencies are volatile and formal price actions may not guarantee same action in the future. Secondly, buying is okay, but where to buy is another thing altogether.
Where to buy Fantom?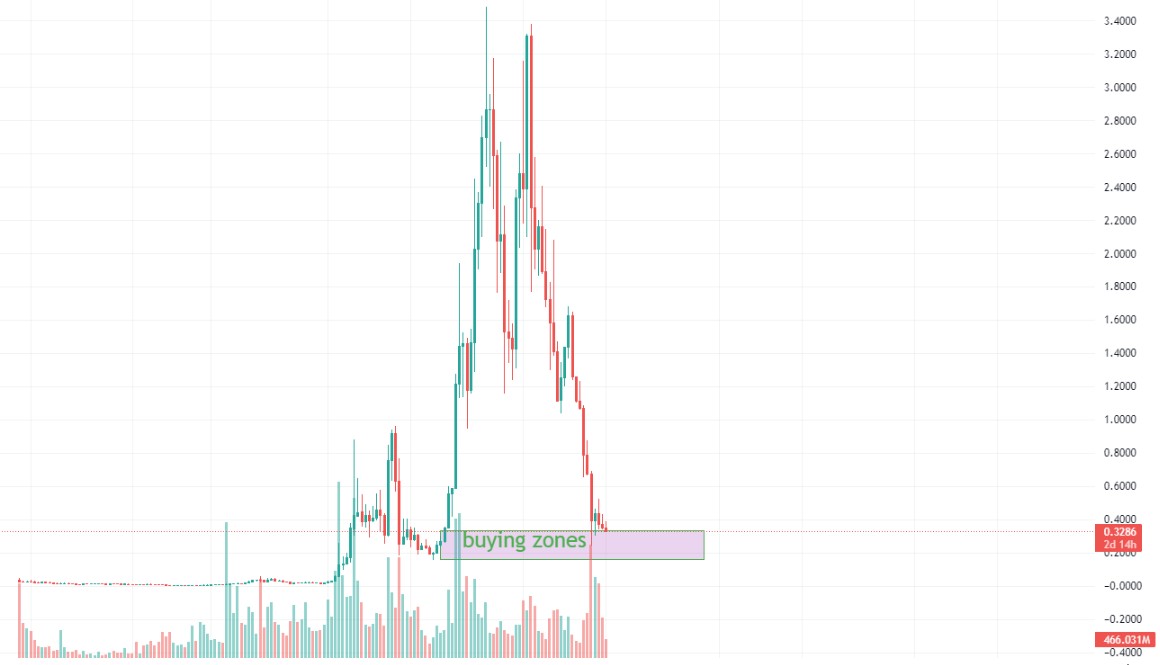 Fantom on an old downtrend seems to be finding the light at the end of the tunnel soon, as price might visit the old support line in weeks time. The weekly chat shown below shows you the support line where Fantom price is heading to, and a price region point to buy, if you wish to buy Fantom.
Read more: tzero price prediction.
Conclusion
With the rise in ALT coins, knowing which, when, and where to buy an ALT coin is a positive approach. Not all ALT coins survives Bitcoin dip, so holding a good coin will be profitable. Although, understanding the right coin to hold could be a problem, that's why you have to do your own research(DYOR).
Disclaimer
Cryptocurrencies are volatile, with a level of risk attached to them. This article is for informational purposes only, and not a financial advice. You are advised to your own research(DYOR), and trade at your own risk.